See below for upcoming class dates - you can book for dates in different months.
Once you have booked and paid, I can send you your free pregnancy relaxation download track, for you to start enjoying deep relaxation, in preparation before coming to the course
.
* Note Workshops are run by either Barbara (B) or Zana (Z).
Day 1 Natural Pain Relief - focus on hypnobirthing - theory and practice on reaching a deeply relaxed state to help the birth hormones; develop your own 30-second rapid relaxation techniques
Day 2 Practical Birth Preparation - skills for you and your partner for birth; engaging with the healthcare team; preparing your personal plan for birth
Please email the practitioner running your course:
2018
Fri 22 and Sat 23 June Zana
Fri 13 and Sat 14 July Barbara
Fri 17 and Sat 18 August Zana
Fri 21 and Sat 22 September Barbara
Fri 26 and Sat 27 October Zana
Fri 23 and Sat 24 November Barbara
Fri 14 and Sat 15 December Zana
Private workshops are also available, full day format, or evenings.
Please email the relevant practitioner for the course you are interested in

2018 Prices
One day course - either Natural Pain Relief or Practical Birth Preparation : £148
Complete Two day course - Both Natural Pain Relief & Practical Birth Preparation : £248
One day, one to one course in your home £250 (charge for mileage may apply)
Is this your first baby? Read birth stories here - Jamie and Thom amazed the midwives by birthing their 8lb 9oz baby calmly using only hypnobirthing techniques, at the New Forest Birth Centre; Read about Emma and Stewart's hospital birth and Sara's home birth using Natal Hypnotherapy techniques from my courses.
Laura and Rich's plans changed when they accepted induction of labour but still ensured they had a positive birth experience for baby Cora.
If you have had a caesarean, see how Natal Hypnotherapy helped Robyn plan for a positive birth experience for baby number 2.
Natal HypnotherapyTM group classes and private sessions
For maximum benefit, I recommend the full Natal Hypnotherapy programme of two one-day antenatal sessions, and includes all course materials and relaxation tracks for you and your partner to use after the course.
You can book each day in different months, so you can start to feel the benefits of better sleep and feeling more positive straight away, and spread the cost.
If you prefer a more tailored or private approach, you can book a 1-1 in your home. These will be Monday to Friday, where you have the luxury of a full day to focus on you, your baby, and to build on your strategy for birth as a team, without eating into weekends. You can spread 1-1 sessions across two half day/evening sessions. There may be a small extra charge for my travel on a per-mile basis.
You can mix and match group sessions and one-to-ones. for example many clients like to learn about hypnotherapy in the Natural Pain Relief study day (day 1) on a 1-1 basis, with home comforts around them, where we are able to focus on any particular anxieties or worries confidentially. Then, they may be happy to attend a group Practical Birth Preparation session (day 2) nearer the birth.
Please ask early - the slots can fill quickly and I hate to leave people disappointed!

In the Natural Pain Relief workshop you will learn what hypnosis is (and what it isn't!) and how it can be used during pregnancy, to help you feel more positive, and to prepare for labour and birth. You will learn how fear and anxiety can inhibit labour and increase the pain sensations.
You will practise self hypnosis skills to overcome fear, and increase your confidence and trust in your ability to give birth. You will explore ways your birth partner can help you to achieve a deeply relaxed state. There will be plenty of opportunity to work together and practise techniques you will be able to use in labour.
You will go home with a link to download a set of relaxation tracks for you and your partner to continue practising relaxation. You can take this workshop at any time during pregnancy.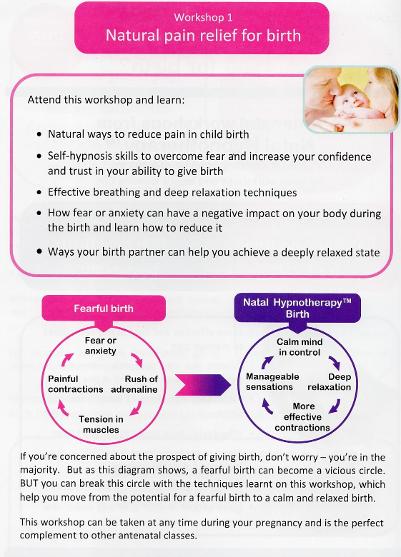 Practical Birth Preparation
The Practical Birth Preparation workshop develops the skills you have gained in the Natural Pain Relief workshop. The role of the birth partner is a key focus for the day.
You will learn about how normal birth unfolds, physically and emotionally, and partners will gain skills to deal with the different emotional responses a woman may display in labour. You will have the opportunity to practise massage, movement, using a birth ball. you will have learned effective ways to work together with midwives and the medical team supporting you.
By the end of the day you will have a plan for birth to take home and develop in the period leading up to the birth, wiht your course resource book.
The above workshops are also available as private sessions in your own home, subject to availability. There may be a mileage charge, at HMRC current rates.