Romsey Relax Hypnotherapy
Help for you to overcome anxiety, fear, and unwanted habits

Hypnotherapy can help :
overcome unwanted habits
address sleeping problems
overcome anxiety or fears
help with weight loss -to quit smoking and become a permanent non-smoker
reduce exam nerves, study worries
overcome driving test nerve
Old Pain 2 Go
Client Testimonial - hypnotherapy to overcome fear of flying.
Naomi texted me with her achievement as soon as she had landed at her destination airport, even before arriving at her hotel :-)
Naomi writes: "I booked a couple of sessions with Barbara, as I have a massive fear of flying (or should I say had?). Things had got so bad that I would flinch if a plane flew overhead. The thought of watching footage of aborted landings or reading stories about crashes and near misses was unimaginable.
Knowing I needed to make a return flight on my own this year, I decided to take matters into my own hands and book hypnotherapy. I found Barbara to be kind, patient and caring at her sessions and everything was explained clearly. Barbara was happy to answer my random questions and I felt totally comfortable in her care.
I was surprised that I felt immediately less anxious about life after the first session ! After the second, I felt like I was worrying about nothing. The CD given to me was useful, and I made sure I had it with me to listen to on the flight.
I have now made my outward journey and whilst I was still concerned during take off and landing I most definitely felt more confident and in control of my fear. I would wholeheartedly recommend Barbara to anyone seeking to control their fears!"
Vicky is a nurse, and came to see me to deal with feelings of anxiety which were interfering with her enjoyment of life and work.
Vicky writes:
"My anxiety had become quite significant and I was concerned this would affect my family,so I decided to try hypnotherapy. I contacted Barbara after having heard her name recommended on a number of occasions.
After having just one session I felt like my mind set completely changed, to the point where I was struggling to remember why certain situations had made me feel so anxious. Despite the fast positive results I still listened to the daily relaxation CD, and attended the second session which helped further reinforce a more positive mind set.


Not only have I managed to rid the anxiety that was holding me back but the positive affirmations have lead me to feel much more comfy and confident in myself in general! A very pleased customer!"
Anxiety and fear are normal human emotions, and serve to protect us from harm. However sometimes, these emotions can spiral out of control; our imagination can lead us to worry about what might happen, however unlikely that might be, rather than what is likely to happen. This can interfere with our lives, and hold us back from achieving things that we want to achieve.
There are many ways to help yourself overcome things which you may feel are holding you back. Hypnotherapy can help, by helping you get into a deeply relaxed state. A hypnotherapist can help you to use your imagination, to see yourself being and acting as you want to be, without the unwanted feelings. You can learn to change your outlook, and to also to control how you react in situations which might once have caused you worry and anxiety.
Each hypnotherapist works in their own way. My focus is on the client and to discuss how best to help. I use Neuro-Linguistic Programming (NLP) techniques, clinical hypnotherapy, and am trained in psychotherapy.
I am accredited by Hampshire School of Hypnotherapy, and am registered with the General Hypnotherapy Standards Council (GHSC) and with the Complementary and Natural Healthcare Council (CNHC).

. If you would like to discuss how hypnotherapy might help you, please contact me, Barbara and I will reply by email or phone, whichever you prefer.
I am happy to offer a free telephone consultation of 20 minutes for an initial discussion of your needs. My fees are £70 per session, and I advise booking 2 sessions, 7-14 days apart. Payment to be made in advance by bank transfer or other agreed method.
Please allow up to 2 hours for your first appointment to ensure you do not feel rushed.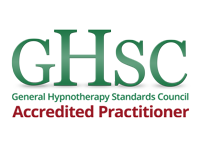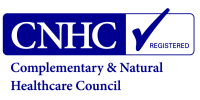 What is Hypnotherapy?
Hypnotherapy is a skilled communication aimed at directing a person's imagination (or subconscious mind), while in a state of deep relaxation, in a way that helps make changes in some perceptions, sensations, feelings, thoughts and behaviours. In a typical hypnotherapy session the hypnotherapist and client will discuss the intended alterations or therapeutic goals desired. The hypnotherapist will ask questions about previous medical history, general health and lifestyle to decide on the best approach for the individual.
Hypnotherapy may be helpful for those seeking relief from a range of problems. Someone may find that attitudes, behaviour, or thoughts, are preventing them from achieving goals, or even interfering with everyday life. Hypnotherapy is used alongside a person's own willpower and motivation to work towards their desired goal. It is often used to help relieve anxiety, aid sleeping, address repetitive behaviour; and help clients achieve behavioural change to stop smoking. It may also help relieve symptoms of skin conditions which are exacerbated by stress and confidence issues, and may also be used to enhance performance in areas such as sport and public speaking.
Can hypnotherapy help manage pain?
Hypnotherapy may help people to cope with and manage the relief of perceived pain. Hypnotherapy has also been used with both adults and children to help manage the pain associated with irritable bowel. There is evidence to support its use in this condition for both adults and children. The National Institute for Health and Clinical Guidance (NICE) recommends the NHS should consider referring patients for hypnotherapy if their irritable bowel is persistent and has failed to respond to simple prescribed medicine.
How do I choose a practitioner?
It is important to choose a qualified hypnotherapist who has undertaken all the necessary training to understand the theory and practice of hypnotherapy. You can check whether a hypnotherapist is registered with the Complementary & Natural Healthcare Council (CNHC) by searching the register at www.cnhc.org.uk. By choosing hypnotherapists registered with the CNHC you can be confident that they are properly trained, qualified and insured